Gift vouchers are always available for a treat for that special someone, a great suprise or gift for someone in need of some special me time!
We do personalised gift vouchers
Treatment Voucher – This is a great idea if you know what treatment the person wants, I can personalise a voucher with the treatment and persons name so this way the client does not know how much you have spent on them they only know you have bought them a luxury facial and massage etc
All vouchers are personalised with the clients name on them, a personal message can be added too.
To purchase a gift voucher please visit our shop page of the website to purchase and pay online or call us on 07740 196289
Please add the name, email address and a message for the recipient of the gift voucher you would like to purchase and we will email it directly to them. We will also send you a copy.
Gift vouchers are valid for 3 months from the date of purchase.
FOR MORE GFT VOUCHERS PLEASE CLICK HERE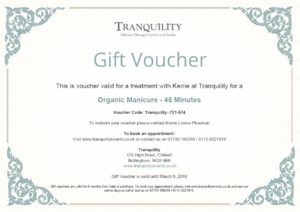 Paypal details to pay by Paypal if preferred are