Click here 
https://10to8.com/book/tranquilityevents/ 
to book an appointment online with any of our therapists today
Kerrie Plowman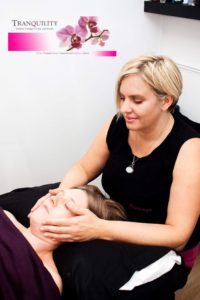 Holistic Therapist and owner of Tranquility
ITEC qualified
Kerrie trained in 2004 and began by offering massage for Corporate events and then began to build her client base by working one day a week renting therapy rooms in Nottingham city centre and Beeston and then gradually building up her practice, she started her own therapy room in 2011 which got busier and busier and now she owns and runs "Tranquility Holistic Therapy Centre and Studio" which is a therapy centre with 3 therapy rooms and a lovely studio, all which are available to rent out to therapists and for yoga, meditation etc classes.
Kerrie works at Tranquility doing Swedish Massage, Lava Shell Massage, Hot Stone Massage, Organic Facials and Hopi Ear Candles, Baby Massage Courses, Natural Product Making Courses and teaches Inner Dance Meditation classes
Appointments available Tuesdays 9.30am – 3pm, 6.30pm – 9pm, Wednesdays 12am – 3pm and Saturday 11am – 6pm, more availability in school holidays!  Please text for these times and dates if required or check the diary online!
Please contact Tranquility to book
or click or book an appointment tab to book 24 hours a day!
http://www.tranquilityevents.co.uk/book-an-appointment/
Kerrie charges from £25 a session
John J Nichol – BA Hons
Humanistic Counsellor
I offer a free initial consultation, this allows us to meet and for you to see if you would feel comfortable working with me as your counsellor.
I am experienced in working with people who come for counselling with a wide variety of emotions and feelings that they feel are damaging or unhelpful in their lives.
I graduated from the University of Nottingham with a BA Hons degree in Humanistic counselling. I still work closely with the University as one of their approved counsellors, working with undergraduate students.
I work from counselling rooms in Chilwell (NG9) where I see clients from all backgrounds regardless of gender, sexuality, race or religion.
One of the hardest things about counselling is making that first contact please feel free to get in touch.
Contact John on 07751 341418 or book online on the online diary
Jade and Tom
Vinyasa Yoga
Jade is a highly experienced yoga teacher with 500 hours of advanced Yoga Alliance certified training, incorporating hatha, vinyasa and yin styles.
Tom is an experienced yoga teacher with 200 hours of advanced Yoga Alliance certified training with Frog Lotus Yoga, incorporating vinyasa, ashtanga and hatha styles.​
Together we ​provide dynamic, vinyasa yoga classes suitable for all levels, beginners are welcome.
We'll guide you through a fun, flowing sequence of yoga postures, with a focus on safe alignment and mindful movement. This class will leave you feeling strong, energised, and relaxed.
Mats and props are provided.
Freya Coles
Adult Ballet class teacher
Freya has been passionate about dance all her life and graduated from Middlesex University with a First Class Honours degree in Contemporary Dance. As well as teaching, Freya enjoys performing and has been part of many dance performances in both London and Nottingham.
Freya teaches a range of classes from children's creative movement classes to contemporary dance technique. Additionally, Freya teaches BarreConcept fitness classes and Ballet Sculpt&Stretch at several different venues and gyms.
Freya has always been interested in practicing Yoga, Pilates and holistic wellbeing. Whilst at university, Freya specialised in Bartenieff fundamentals of release technique which focuses on the use of breath, to help find patterns of total body connectivity. Freya believes movement in all forms is a fantastic way to express yourself whilst also nourishing and looking after your body.
'In the exuberance of movement, we know ourselves… the exercise of the body results in joy or happiness, the proper fulfilment of the soul.' (Balkam in Kleinman 1986:37)
Freya teaches on a Thursday at 7pm.  Please see class timetable for details for to book
Susan Hardwick
Dru Yoga teacher
Susan teaches Dru Yoga Tuesdays 7.30pm – 8.45pm
Lynda Butler Staples 
Mindful Yoga classes, Yin Yoga and Yoga Nidra workshops
Lynda teaches Mindful Yoga Tuesdays 5.15pm and 6pm, Yin Yoga on some Saturdays and Yoga Nidra on some Fridays
Danielle Birkenhead
Ashtanga Yoga
Danielle teaches Ashtanga Yoga on Wednesdays 7pm – 8.45pm
Sign up for our monthly newsletter now
http://tranquilityevents.us5.list-manage.com/subscribe?u=79c923d910eb5c1443f656b84&id=0ac91af383