Click here 
https://10to8.com/book/tranquilityevents/ 
to book an appointment online with any of our therapists today
Kerrie Plowman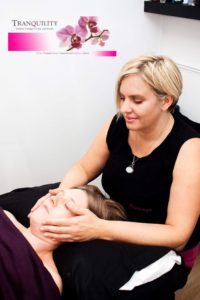 Holistic Therapist and owner of Tranquility
ITEC qualified
Kerrie trained in 2004 and began by offering massage for Corporate events and then began to build her client base by working one day a week renting therapy rooms in Nottingham city centre and Beeston and then gradually building up her practice, she started her own therapy room in 2011 which got busier and busier and now she owns and runs "Tranquility Holistic Therapy Centre and Studio" which is a therapy centre with 3 therapy rooms and a lovely studio, all which are available to rent out to therapists and for yoga, meditation etc classes.
Kerrie works at Tranquility doing Swedish Massage, Lava Shell Massage, Hot Stone Massage, Organic Facials and Hopi Ear Candles, Baby Massage Courses, Natural Product Making Courses and teaches Inner Dance Meditation classes
Appointments available Tuesdays 9.30am – 3pm, 6.30pm – 9pm, Wednesdays 12am – 3pm and Saturday 11am – 6pm, more availability in school holidays!  Please text for these times and dates if required or check the diary online!
Please contact Tranquility to book
or click or book an appointment tab to book 24 hours a day!
http://www.tranquilityevents.co.uk/book-an-appointment/
Kerrie charges from £25 a session
Julia Church
Pregnancy Massage and Postnatal Massage
Julia is a qualified and experienced massage therapist, with a passion for nutrition and nurturing the whole being of a person she provides services in Pregnancy and postnatal massage
Like you Julia believes that regular maintenance of your body is the way to stay in optimum health. Our bodies need maintaining, cleansing and healing to stay healthy and if you aren't already taking care of yourself, now is the time to put your body first.
All services Julia provide will help you to enjoy a pain-free happier future and restore your body to health:
Pregnancy Massage makes pregnancy as comfortable as possible through a host of benefits, such as improving circulation and respiration, lowering blood pressure and stress levels, and aiding relaxation.
Julia offers the above services on Wednesdays 9am – 12pm and Thursdays 3.30pm – 7.15pm where you can also book treatments and pay to secure your treatment session with Julia.
Please contact Julia to book on 07779 308929
Lavinia Harper
Clinical Reflexologist
Lavinia Harper is a Clinical Reflexologist who has been qualified since 2017. Lavinia has a Centralia reflexology mastership in clinical Reflexology [level 5]. She is also qualified in Enhancing Fertility & Maternity Care Reflexology and Palliative & Cancer Reflexology.
Lavinia offers relaxation & Clinical Reflexology also Taster Sessions. I know feet aren't everyone's favorite body part. I love feet, small feet, big feet, wonky toes, and even hairy toes! Why? Because I love reflexology – feet don't have to be perfectly pedicured for this treatment. It often help me to understand how your body is working. Don't be shy we all have weird/ funny feet me included!
Lavinia offers these services on a Friday between 9am and 3pm
Please contact Lavinia to book on 07956 726703 or book online
http://www.enchantedhealingtherapies.co.uk
John J Nichol – BA Hons
Humanistic Counsellor
I offer a free initial consultation, this allows us to meet and for you to see if you would feel comfortable working with me as your counsellor.
I am experienced in working with people who come for counselling with a wide variety of emotions and feelings that they feel are damaging or unhelpful in their lives.
I graduated from the University of Nottingham with a BA Hons degree in Humanistic counselling. I still work closely with the University as one of their approved counsellors, working with undergraduate students.
I work from counselling rooms in Chilwell (NG9) where I see clients from all backgrounds regardless of gender, sexuality, race or religion.
One of the hardest things about counselling is making that first contact please feel free to get in touch.
Contact John on 07751 341418 or book online on the online diary
Sign up for our monthly newsletter now
http://tranquilityevents.us5.list-manage.com/subscribe?u=79c923d910eb5c1443f656b84&id=0ac91af383