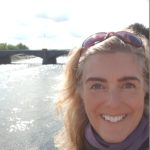 About Pam
Hi I'm Pam and I teach Hatha and Yin Yoga.  I went to my first Yoga class over 30 years ago in my first week away at University (or Polytechnic as it was called back then!) to train to be a Primary School Teacher. Little did I know how much it would help me throughout my life and it continues to do so.
I was away from home for the first time, nervous, anxious and feeling completely out of my depth. It was Fresher's week and a house mate suggested we try one of the free classes that was being held in the large Sports Hall. One was Jujitsu.  The other was Yoga.
I made my choice and so my Yoga Journey began!
I remember the huge hall packed with students, the anxiety was overwhelming but the teacher was so welcoming it made me feel at ease. I still remember to this day the feeling I had during that first class. The attention on the body, the alignment, the movement with the breath had me so focussed that the nerves and the anxious feelings just disappeared.
This was it!  This was just what I needed.
Yoga has been a constant companion to me throughout my years as a student and as a Primary School Teacher, helping me to deal with the stress and anxiety of a busy job and busy life. My time on the mat, the breathing techniques and the Yoga philosophy which was fed to me over the years started to become a part of my everyday life.
Gentle Hatha Yoga Classes
Tuesdays 9.30am – 10.30am
Yin Yoga Tuesdays 11am – 12am
Cost £9 Drop in or £7 in bought in a block of 6 (£42) 
To book please contact Pam on 07866 300496
Gentle Hatha Yoga is aslower, more mindful Hatha Yoga Class taking into account those who want a gentler pace or for those with pain or fatigue conditions such as Fibromyalgia, Chronic Fatigue Syndrome, M.E. We will work together to find a pace to suit us all individually, listening deeply to our bodies and using cues to tune in and know when to stop, rest or to modify our practice.
Yin Yoga is a more passive, quiet and meditative style of Yoga and is suitable for all levels, especially those who find it very difficult to switch off. A session will consist of mainly floor based postures which are held for between 3- 5 minutes. These long held postures require muscles to be kept soft, rather than tense so that we can target the deep fascia (tendons, ligaments, connective tissues) which becomes dry and tight as we age, limiting our mobility in our joints and bones. It is a very slow, simple Yoga practice but slow does not necessarily mean easy! Holding these postures for a long time can be challenging as we hit the deeper layers of fascia beneath the muscle which takes time to stretch and release