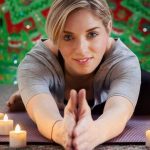 Valentina is a certified Expert Registered Yoga Alliance Teacher. She shares her passion with hundreds of practitioners. She loves creating groups & communities with the aim of supporting each other.
She loves helping people to align themselves to their inner values and essence with kindness, presence, and example.
What is your heartfelt desire?
"Sharing the beauty and helping to see beauty in & out is my dharma. Our nature is love. If we align ourselves to love, everything else goes in balance."
About Restorative Yoga
Restorative yoga helps provide that physical and mental balance to prevent stress and anxiety, through the use of props that allow you to hold poses longer. Giving you all the benefits of deep, passive stretching. We will also use essential oils diffuser, soft music, and finish with meditation practice.
Classes will be special designed for Women, yoga is the perfect tool to embrace fully your femininity, honour your being, embrace menstrual cycles, menopause, flashes, swing mood. Creating in Chilwell a sisterhood community is one of my desire when I visualised this brand new class.
If you are interested in this deep relaxing class, reserve your space, we are now taking bookings for 14th January 2019.
Limited places, 8 people each course.
In February priority will be given to people who attended the previous course.
We are happy to add your name to the waiting list when the course is full and give you notice one a spot becomes available.
Price
£50 for 5 weeks course, 75 minutes session with tea fruits & chat included