Swedish Massage
Back Massage – £31
45 Minutes
Full Body Massage – £41
75 Minutes
Hot Stone Massage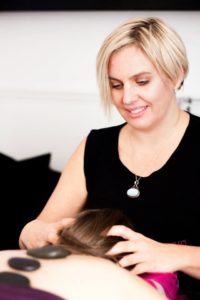 Deluxe Full Body Massage with hot stones and Facial – £71
(120 minutes)
Deluxe Back Neck and Shoulder Massage with hot stones and Facial £71
(105 minutes)
Luxury Body Massage with hot stones and Indian Head Massage £71
(105 minutes)
Full Body Massage with hot stones using Raw Organic Oils £51
(75 minutes)
Hand and Arm Massage with hot stones using Raw Organic Oils £26
(30 minutes )
Back Neck and Shoulders Massage with hot stones Using Raw Organic Oils £41
(45 minutes)
On site Massage in our comfortable Massage Chair with hot stones
30 Minutes £20
20 Minutes £16.50
Buy any 5 treatments and get 1 free when you pre pay with Kerrie!!
Benefits of Massage
Gentle massage affects the nervous system stimulating the release of endorphins, the body's natural 'feel good' chemicals, to help induce
relaxation and a sense of well-being, to relieve pain and reduce levels of
stress chemicals such as cortisol and noradrenaline. It helps reverse the damaging effects of stress by slowing heart rate, respiration and metabolism and lowering blood pressure.
Stronger massage stimulates blood circulation to improve the supply of
oxygen and nutrients to body tissues and helps the lymphatic system to flush away waste products. It eases tense and knotted muscles and stiff joints, improving mobility and flexibility.
Click here to sign up for our newsletter for FREE Health tips, advice, special offers on treatments and well being classes!