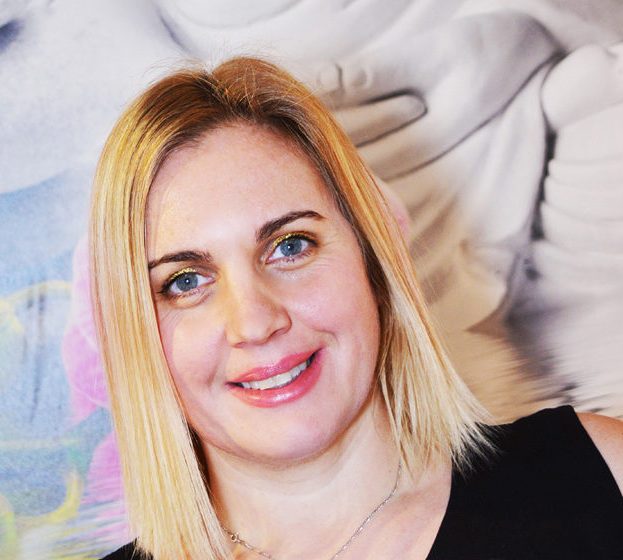 Kerrie Plowman | Owner of Tranquility, Holistic Therapist and Meditation teacher.
Tranquility Holistic Therapy Centre & Studio is owned and run by Kerrie Plowman, who gained her ITEC qualification in holistic therapies in 2004. She now has over 15 years of experience in treating clients. Kerrie is proud to offer luxurious pampering treatments with a personal touch designed to nurture and revive you.
Kerrie has two children. Jamie, who is 14 and a typical teenager; a bit grumpy and smelly but very holistic and caring. He is spiritual like his mum.  She also has Isobel, who is seven and a hilarious character with a huge personality.
Kerrie loves socialising with friends, travelling and going to festivals.  She also loves Thailand and usually goes for a month a year to travel and immerse herself in the culture. For her, it is all about yoga, mindfulness, Buddism, eating good food, detoxing, chilling and self-care!  Her hobbies are yoga and meditation (did you guess?). She loves all types of yoga as she says it "keeps her sane".  Kerrie also really enjoys going to the theatre to watch musicals, opera and eating out. She is a vegetarian and loves all animals. That's her in a nutshell.
Back in 2004, when Kerrie first trained, she began by offering massage for corporate events. She then began to build her client base by renting therapy rooms in Nottingham and Beeston, just one day a week. Over time her client base grew rapidly, and by 2011 Kerrie was able to move into her own therapy room on Bramcote Avenue, Chilwell. After a very successful year, she moved to larger premises & created the Tranquility Holistic Therapy Centre & Studio in the Creative Corner.
This move was her dream: the dream to have other therapists and teachers all under one roof for a complete well-being service. The old building has lots of charm, character and great energy and was perfect when the time came to expand. And that's how Tranquility was born.
Kerrie has had both her covid injections
Kerrie offers quality holistic treatments including:  reiki, organic chemical-free organic facials, massages (Swedish, lava shell, hot stone, chocolate), and (yes, there is more!), Hopi ear candles. To see a full list of her treatments & therapies, please click here.
The centre has 5 therapy rooms (three for talking therapies & two for treatments) all with natural light and a lovely studio, all of which are available to hire out to therapists and for yoga, meditation classes etc. Here you can experience Yoga, Mindfulness, Relaxation classes, Holistic Therapies, Holistic beauty treatments, product making classes and much more, all taught by dedicated, professional and inspirational teachers, creating a holistic approach to the wellbeing of the mind, body and spirit.
Kerrie says: "After experiencing many treatments myself, I recognise how much you are rushed & not always made to feel special, which is disappointing & not how you want to feel after having a treatment. I always treat my clients how I would want to be treated, as an individual & made to feel special, which is the way it should be."
Relax under our comfortable quilt & heated couch; be pampered & let your problems drift away….. talk about your problems to our counsellors who are here to listen to you… revitalize & revive with our great classes in our calming studio. Make that commitment to look after yourself, after all if you don't look after yourself, how can you look after everyone else! You only have one body – nourish & treat it with the love and care it needs by nourishing your body, mind & soul at Tranquility. Book treatments and classes online 24 hours a day here.